In the year 2020, Waukesha County has 22 top-rated public high schools where students study under a safe and supportive environment. Public high schools in Waukesha County are so great that they will make you forget the 12 private high schools that are there in the region.
All public high schools in Waukesha County are coed, other than the Norris High School in Mukwonago, which is an all-boys-school. Unfortunately, none of these public high schools provide boarding facilities to their students. For boarding facilities, you will have to check out St. John's Northwestern Academies. It is the only top-rated private high school in Waukesha county that offers a boarding facility.
Waukesha County has a well-developed education system. Students love to go to school here. Highly-experienced teachers here care about their students and want them to be successful. Moreover, students feel safe in these schools. None of them feels threatened by other students or faculty members.
Top Public High Schools in Waukesha County, WI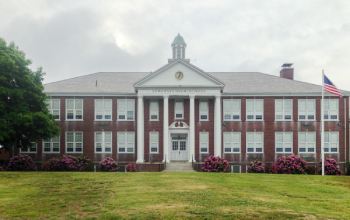 Since there are many top-rated public high schools in Waukesha County, it might not always be easy to pick the right school. All high schools can prepare students for college. However, depending upon your individual preferences, one school may be better than the other.
Here I have highlighted the best public high schools in Waukesha County. These schools will not only provide top class education but will also encourage students to take part in sports and extracurricular activities.
1) East High School
East High School is one of the most competitive public high schools in Waukesha County. The teachers here rigorously push students to become better in studies, sports, and extracurricular activities. Additionally, the school has many AP courses to prepare students for college.
Overall, East High School doesn't feel like a school because the teachers here are so friendly, and the kids are quite helpful. Bullying is never a problem at this school because there is always someone around to help the students. The best part about East High School is its teachers who work very hard to bring out the best in every student.
2) Central High School
Central High School is where most students are in one or the other extracurricular activity. The school is especially beneficial if you are an athlete or a talented actor/singer.
At Central High School, they give enormous attention to their sports teams such as soccer, baseball, track & field, etc. They even support these activities through attendance and administrative funds.
3) Arrowhead High School
Arrowhead High School offers one of the best high school experiences while letting students be as involved as they want. It is a large public school with over 2,000 students. The school offers all the resources and facilities that a student may require to prepare for college.
The teachers at Arrowhead High School will help you to grow not only as a good student but also as a great person. Additionally, the school will let you experience and enjoy large class sizes, which makes it easy to make new friends.
4) Pewaukee High School
Pewaukee High School promotes critical thinking and a positive culture overall. Their teachers and advisers allow every student to succeed. At Pewaukee High School, you will get real-world experience by working on projects that involve communities and big companies outside school.
The school is known to provide excellent education while letting students have fun in sports and clubs at the same time. Teachers here are very engaged with students and always have a respectful and welcoming attitude towards them.
5) Eisenhower High School
Eisenhower High School allows students to take many classes to expand their interests. Students can take a wide range of engineering and computer classes here that not many public high schools offer.
The school gives you everything you need to prepare for university and fulfill all of your dreams after high school. Whether it be AP classes, NHS, clubs, theater, band, softball, you will find it all at Eisenhower. It is a unique school with a comprehensive education system that makes it one of the best public high schools in Waukesha County.
6) Hamilton High School
Hamilton High School gives you all the resources to succeed when you look for them. It can sometimes appear like an ordinary school, but soon enough, you will notice the warm and polite atmosphere that the school provides.
The teachers here work very hard to make students college-ready. It is a welcoming school that also has plenty of non-academic opportunities for students. From Hamilton Fine Arts Center to Hamilton Athletic Center, there's something for everyone at this school.
7) West High School
West High School offers an atmosphere that is very favorable to learning. Students can take many AP classes here to get placements and course credit at various American universities and colleges.
It is a diverse school where everyone feels loved and accepted. The academic curriculum at West High School prepares you well for college, and their music and theater programs are just fantastic! Schools 2020